wiSLA Key Features
VoIP quality analysis
Eliminate any problems with business-critical applications in advance

wiSLA generates a special MOS (Mean Opinion Score) test that imitates a real voice session between a couple of wiProbe probes in your network. Available parameters are codec type, voice traffic bitrate, voice frame length.
---
On-line monitoring

Monitor service quality 24x7

Check service quality statistics, faults list and analyze all SLA violation cases.
---
One-way metrics

Measure quality in directions

wiSLA allows to monitor service quality in each direction with microsecond accuracy.
---
Guaranteed quality

No more web services problems in case of overloads on IP networks

Manage traffic routing with Quality Based Routing (QBR) function. wiSLA switches real-service traffic from loaded main channel to the alternative one in case of its sufficient capacity.
---
Channel loading monitoring

How efficient leased channels are used

wiDPI function allows to define the most active users and applications utilizing your single connection and entire network. Analyze band utilization in directions and make a correct decision in case of network development.
---
SLA reports

Study the real service readiness

Set up corporate quality policies, monitor services on SLA, expose penalties to your partners for inappropriate quality services.
---
Mobile apps

Be aware about service quality worldwide

Download applications for Android or iOS and get near real-time information about status services, network bugs, network maintenance, service quality changes statistics.

wiSLA for iPhone

wiSLA for Android
---
Integration into the equipment

Use probes only in case you really need

The system can collect service quality information from Cisco, Juniper, RAD, Eltex, Metrotek, Huawei, OneAccess equipment.

Additional metrics can be collected from equipment management system.
---
Capacity management
Check the link speed in-service
Monitor available VPN capacity and Internet links according to the schedule or on-demand without impact on customer services.
---
L7 Monitoring

End-User application quality view

Imitate user actions from the allocated offices and monitor application quality.
---
In real time

Study the problem at once

Use the online quality metrics monitor with customized up-dating period.
---
Integration into Service Desk
Open API for your interaction

Use SNMP-trap, REST API, SOAP, SMTP to integrate your customer support systems, SMDB and LDAP.
Interfaces can be available to your partners via Partner Gateway to coordinate maintenance schedule, information exchange about service quality degradation and SLA reports to calculate SLA penalties automatically.
---
Customized platform

Unique system settings

Add unique fields for services and access points. Use tags for easy search and list classification.
---
Alarm notification

Be aware of your customer problems

wiSLA notifies on quality degradation and SLA violation cases in accordance flexibly build-up notification setting and logical event handling.
---
Analytics

Use statistics to make the right decision

Check the quality service information for any period and choose the safer partner.
---
Measurement protocol

Use your SP tools

The system generates reports based on the same ITU-T, TM FORUM, MEF, IEFT and RFC standards that your service provider use.
---
Contractor portal
Partner access to the data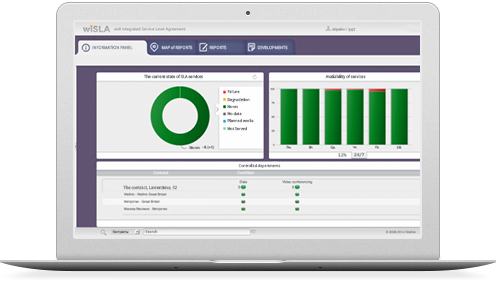 Customers and Provider access the secured data about service quality.
---
Windows gadget

Monitor service quality on Windows Vista/7:

Current status services
Bug and maintenance duration
Service quality statistics of the previous period .
---
Automatic probe configuration

wiSLA allows to launch new service monitoring in 1 one minute due to automatic probe configuration.